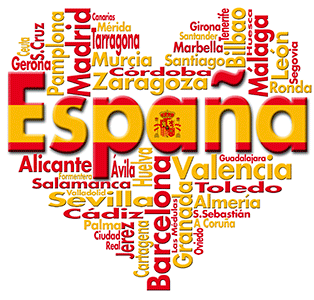 For your translations into Spanish, always speak to a professional whose native language is Spanish. An in-depth knowledge of idiomatic expressions and Hispanic culture will guarantee you an incomparable result. Only a native speaker is sufficiently proficient in the regional and national varieties of Spanish. Between Latin America and the Iberian Peninsula, they are numerous! And above all, only an expert will be able to avoid the famous trap of "false friends", those words which are so similar in English and Spanish but in no way have the same meaning. Always speak to a professional translator!
PROFESSIONAL SPANISH TRANSLATION SERVICES
Spoken by nearly 500 million people, Spanish is the third global language after English and Mandarin. Despite the economic crisis that has weakened the Iberian Peninsula, Spain is still an ideal economic partner today. Regarding Latin America, certain countries export a great deal of oil and minerals, so a partnership with one of these countries might be beneficial and strategic.
Spanish is incorrectly seen as an "easy" language; indeed, only a professional translator will fully understand its cultural subtleties and dialectal variations. For example, the same word can mean two different things depending on whether you are in Spain or Latin America. Cultures Connection works with many companies in the aerospace, energy, trade, clothing, and tourism sectors, where the use of Spanish is a reality. The translation of documents into Spanish represents a significant amount of our business.
LOOKING FOR A SPANISH INTERPRETER?
Need a Spanish-English interpreter? An English-Spanish interpreter? Novatia translations NG offers customized, high quality, and competitively priced Spanish translation solutions. The locations of our translation agencies, particularly our office in Argentina, have allowed us to establish strong relationships with qualified Spanish translators. We offer Spanish translations (Castilian, Catalan, etc.) adapted to your requirements.
Our translation company collaborates with natives of Spain, Central America and Latin America with the most diverse specializations. Our language experts must pass specialized translation tests before they can be registered in our database and work only into their native languages, in accordance with the regulations in force.
ALL OF OUR SPANISH INTERPRETATION SERVICES
Spanish financial interpretation services
Spanish business interpretation services
Spanish scientific interpretation services
Spanish medical interpretation services
Spanish technical interpretation services
Spanish legal interpretation services
Spanish marketing interpretation services
Spanish website translation services
Spanish subtitling services
Spanish video game translation services
Fast translation services in Spanish
https://www.novatiatranslations.com.ng/wp-content/uploads/2018/03/main-qimg-5e4f3f89d958bb0e8f916b3f9e9be62e-1.png
300
314
admin
https://www.novatiatranslations.com.ng/wp-content/uploads/2019/09/NBLACK-300x207.jpg
admin
2019-08-20 20:56:12
2019-08-20 20:56:12
Spanish Interpretation services